Upgrades will help railroad compete against trucking, company says
By Joanna Marsh for freight waves.com
Among Union Pacific's (NYSE: UNP) $2.8 billion in capital investments in 2021 are additions or extensions of sidings at a number of points along its network.
Sidings enable one train to meet and pass another. Adding sidings that can accommodate longer trains enables Union Pacific (UP) to improve the fluidity of the railroad, according to UP spokesperson Robynn Tysver.
According to UP's 2020 sustainability report, UP has recently completed sidings along three routes: the Texas and Pacific route from El Paso to Shreveport, Louisiana, the Del Rio route from El Paso to Houston and the Golden State route from El Paso to Kansas City, Missouri.
The three routes serve a variety of markets, with intermodal and manifest being the two most predominant. The El Paso to Kansas City also handles "a fair amount" of bulk business, Tysver said.
Additional sidings on each of these routes will be completed in 2021, according to Tysver. Overall, 19 additional sidings will be constructed in 2021 at a cost of roughly $150 million.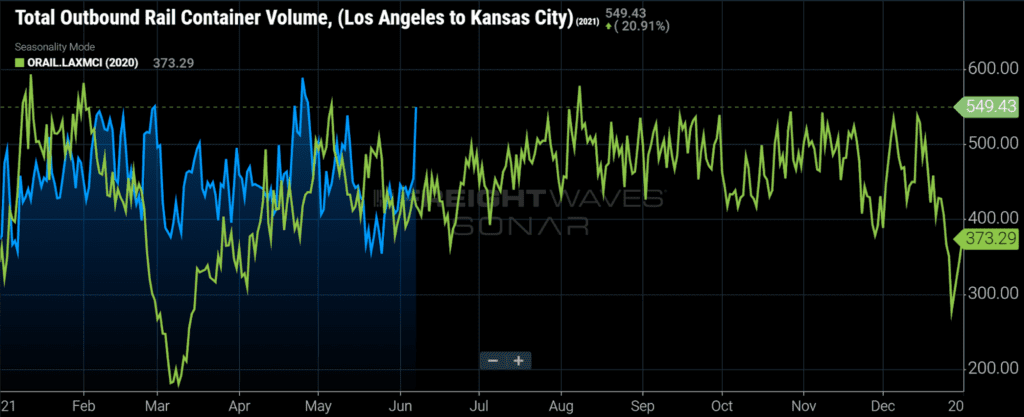 Manifest trains are made of a mix of railcars, such as boxcar and tank cars, whereas bulk trains transport a single bulk commodity, such as grain, soda ash or ore.
In the report, UP says the long sidings allow the company to decrease the number and duration of train meets, which reduces main line congestion and delays. UP also says the sidings help the railroad become more competitive against trucking.
UP is investing in sites where there are "tremendous opportunities" to combine two shorter trains and make a longer train, according to CFO Jennifer Hamann.
"We're able to put those longer sidings in place to be able to build our train so that we can have meets and passes with those long trains," Hamann said Tuesday at the UBS investor conference.
The lanes that have or will receive new sidings are also in areas where UP is seeking to expand its network reach. The Prime Pointe industrial park south of Dallas is adjacent to UP's Dallas intermodal terminal and has warehouse space and packaging lines, according to Kenny Rocker, UP executive vice president of marketing and sales, who was also presenting at the UBS conference with Hamann.
The Texas and Pacific route runs by Dallas, according to UP's system map.