By Associated Press
In the past year, the average length of a Union Pacific Railroad train has grown by about 21 freight cars.
The distance a typical freight car travels in a day has climbed by 20 miles to more than 200.
And the railroad now has 2,600 locomotives parked and idled.
Those are some of the initial results of the "precision scheduled railroading" plan Union Pacific rolled out a year ago, a strategy that seeks to streamline operations by running trains faster and making more efficient use of rolling assets.
But that drive for efficiency has also taken a big toll on the railroad's workforce.
Just in the past year, the Fortune 500 company that's essentially been based in Omaha since Abraham Lincoln was president has cut its nationwide employee numbers by 5,700 to about 36,700 — a reduction of more than 13%. And its leaders are projecting hundreds of additional job cuts yet this year.
The dive Union Pacific and other railroads have taken into precision scheduled railroading has been well received by Wall Street. The operational efficiencies lead to a lower "operating ratio" — essentially the percentage of each dollar received that is spent running the railroad. And that makes the railroad more competitive and profitable.
The increased operating efficiency helped Union Pacific last week post a third-quarter earnings gain of 3%. That was despite the fact that total rail volume was down by 8%.
"We have made a number of changes in our operations in the past year, and the results have been outstanding," said Jim Vena, Union Pacific's chief operating officer.
But railway workers unions see the industry's efforts to speed up trains and run more efficiently as a locomotive barreling down the tracks right at them.
"Railroad workers understand that (precision scheduled railroading) is a direct attack on us — a war being waged by the carriers — that affects employees of all carriers, in all crafts," said Mark Burrows of Railroad Workers United, an association of rail unions.
The unions say precision railroading could ultimately compromise safety for both workers and the public. They say the concept is in part built on deferred maintenance, lax safety standards, reduced infrastructure investment and cuts in manpower.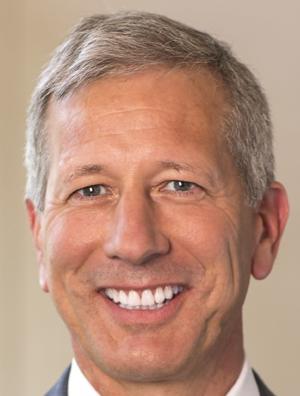 Lance Fritz, U.P.'s chairman, president and CEO, maintains that the precision plan will boost productivity and be more reliable for customers while not compromising safety. The railroad also said its capital investments this year will total $3.1 billion, close to the $3.2 billion spent in 2018.
Jeff Windau, who analyzes Union Pacific for investment firm Edward Jones, said that while the railroad is still early in its implementation of precision railroading, the operational gains it offered up last week showed strong progress.
But he said for workers, one of the unfortunate byproducts of faster trains and reductions in rolling stock is a smaller workforce.
"There is a lot of management fortitude that's required," Windau said. "When terminals get shut down, you're dealing with employees and people's lives. There's some pain in doing that."
Union Pacific a year ago became the latest rail carrier to implement precision scheduled railroading, an operational tactic that in recent years has been fundamentally changing the railroad industry across the country.
"You think of railroads as this stodgy old industry because it's been around forever," Windau said. "But what's happening is really an interesting story as carriers seek to improve efficiencies."
While precision railroading has many elements, it basically revolves around shifting the operational focus from moving trains to moving individual freight cars, trying to get them to customers on fixed point-to-point schedules.
To keep freight moving, switching of cars is minimized. That limits the time cars spend "dwelling" in terminals, waiting to be sorted, switched and routed to their destinations.
"They don't want to have a lot of assets laying around," Windau said.
Not only does that get the cars moving faster, less idle time allows the railroad to maintain fewer cars to move the same amount of freight. Reducing idle time and running longer trains similarly reduces the need for locomotives.
Another concept of precision railroading is seeking to balance directional traffic east-west and north-south to allow for more efficient, two-way use of assets and crews.
The goal of precision railroading isn't necessarily cutting costs and workers. But if an unneeded locomotive can be set aside, the crew that operates it can be furloughed or laid off, too. The railroad would also no longer need the crews that maintained the locomotive.
"It will generate productivity in terms of locomotive utilization, car utilization as well as crew utilization," Fritz said in October 2018 after Union Pacific rolled out what it called Unified Plan 2020.
When it comes to the bottom line, Union Pacific's goal was to reduce its operating ratio from 62% to 60% by 2020, ultimately planning to take it to 55%. By the end of this year, it wanted to achieve $500 million in operational savings.
In January, Union Pacific coaxed industry veteran Vena out of retirement, tasking him with implementing the precision plan. Vena already had the playbook down, having worked on a similar strategy during a four-decade career with the Canadian National railway.
Union Pacific was coming to precision railroading after many other major carriers. But Vena said he thought U.P. could become an industry leader.
Vena said as he toured the railroad's facilities, his discussions showed many front-line rail workers had also bought into the vision.
"They want to get better," he told industry publication Rail News. "They see the endgame."
As Union Pacific has rolled out Unified Plan 2020, it has shut down a number of rail facilities across the country. U.P. operates in 23 states.
In Nebraska, the railroad earlier this year closed a maintenance facility in Morrill, a move that cost the jobs of 68 workers. Since June, cuts in North Platte at Bailey Yard, the world's largest switching facility, led to the layoffs of 133 workers.
Just last week, Union Pacific also shut down its Neff Hump switching facility in Kansas City, Missouri. The railroad earlier this year shut down similar facilities in Hinkle, Oregon, and Pine Bluff, Arkansas. Vena said at the time that with reduced switching volumes, the yards were simply no longer needed.
"I don't wake up in the morning and say 'I am going to shut down another hump yard,' " he said.
U.P.'s earnings report Thursday provided an opportunity for the railroad to show a snapshot of its first-year progress under precision railroading. Company officials offered up the results of a number of performance metrics they've been tracking.
Just in the past nine months, the average length of a train is up 1,050 feet to over 8,000 feet, a gain of 15%. (By the way, given the average train speed of 24 mph, that means typically you'd spend another 30 seconds at a crossing waiting for a train to pass). In the railroad's southwestern United States corridor, trains are 18% longer.
Systemwide, the average locomotive is also 18% more productive, allowing the railroad to park more of them.
The focus on moving cars rather than trains has cut idle time for cars in terminals by 20%. On-time delivery has also improved by 10 percentage points, the railroad said.
"All we are trying to do is move cars as fast as possible," Vena said.
There's even a metric that measures how efficiently the railroad is using its people, called daily railcar miles per full-time employee. That's up 4%.
However, even with the drop in traffic, the employment cuts laid out last week exceed what would be expected with that level of worker efficiency.
Union Pacific said the 13% overall job reduction includes a 13% cut to its train, engine and yard workforce and 15% cuts in management, engineering and mechanical fields.
The railroad declined to provide location-specific job reductions, including at its headquarters in Omaha. A company memo obtained by The World-Herald showed that the company cut about 160 Omaha employees in February, but Union Pacific employees say there have been other rounds of cuts as well.
Union Pacific officials said they expect further workforce reductions in the final quarter of the year. While they did not give a specific number, it appears from their target to involve roughly 1,200 in additional jobs. That would bring the 15-month total of lost jobs since precision railroading was launched to nearly 7,000.
While industry officials frequently talk about the efficiencies gained through precision railroading, rarely mentioned is what such deep job cuts do to employee morale. There was no such talk amid the metrics offered up during last week's briefing.
Amid a previous round of cuts last year, Fritz acknowledged in a statement that the job cuts are "extremely difficult decisions to make because we recognize the impact they have on families, friends and co-workers."
Union Pacific leaders last week did not share any metrics on safety. Vena reported only that the railroad's "incident experience" had not improved and that it was "committed to getting better."
When it comes to the bottom line, Union Pacific said its operating ratio for the third quarter set a company record, at 59.5% — already eclipsing the 60% target set for next year. For 2019, Union Pacific is on track to reach its $500 million operational savings goal.
The operating efficiencies have helped the railroad become more profitable despite the shipping volume reduction from uncertainty over tariffs and trade and reductions in coal consumption. Fritz said the operating gains will leave the railroad in an even stronger position once rail volumes pick up again, as they inevitably will.
"We are in a great place to compete for business," Fritz said. "That's where the work that the operating team has been doing on train size really pays off. Volume growth is going to be our friend."
Vena said there is still much more operational efficiency to be gained. It's a long game that will play out for years.
"We have to be smart about it," he said. "You don't want to blow up the place."