Service hurt by wildfires, weather, and congestion
By Bill Stephens for trains.com
OMAHA, Neb. — Union Pacific set third-quarter records for operating ratio, profits, and earnings per share despite flat traffic volume and the impact of wildfires and bad weather that hurt service reliability.
"The Union Pacific team dealt with multiple network disruptions that required us to rebuild bridges, reroute trains, and connect more closely with other links in the supply chain to support and to serve our customers," CEO Lance Fritz told investors and analysts on the railroad's earnings call on Thursday morning.
UP's operating income rose 20%, to $2.4 billion, as revenue grew 12%, to $5.1 billion. Earnings per share increased 28%, to $2.57.
The railroad's operating ratio improved 2.4 points to 56.3% despite surging fuel costs and the month-long detour of trains while UP rebuilt the fire-damaged Dry Canyon Bridge on its I-5 Corridor linking the Pacific Northwest and California.
The bridge outage, combined with a Gulf Coast hurricane and mudslides in the Rockies, hit UP's key operating metrics, including car miles per day, average train speed, and terminal dwell. Global supply chain disruptions, including the surge of international intermodal traffic at West Coast ports and the slowdown in shippers picking up containers at inland terminals, also contributed to congestion.
As a result, intermodal on-time performance dropped to 66% in the quarter, down from 77% a year ago, while trip plan compliance for merchandise and automotive traffic was 60%, down from 72% a year ago.
Eric Gehringer, executive vice president of operations, said service metrics have been on an upswing since bottoming out in August. "We recognize improving trip plan compliance is critical to support our customers and our long-term growth strategy," Gehringer says.
I-5 Corridor disruption limits train length
Average train length fell during the quarter due to detours around the severed I-5 Corridor, which limited detour train length to 8,300 feet. But executives said UP's long-train focus would continue. UP completed nine 15,000-foot siding projects during the quarter and began construction or was in the final planning stages for 26 more siding expansions to support operation of longer trains.
UP's bulk traffic, including coal, grain, fertilizer, and food and refrigerated products, was up 4%. Higher natural gas prices, and new coal contracts indexed to natural gas prices, helped boost coal volume, says Kenny Rocker, executive vice president of marketing and sales.
Industrial products volume grew 14% thanks to rising energy, forest products, chemicals and plastics, and metals and minerals shipments, Rocker says.
UP's premium traffic, which includes intermodal and automotive business, was down 9% due to congestion at West Coast ports and inland intermodal terminals and the ongoing computer chip shortage that has crimped auto production. Intermodal traffic was down 6% for the quarter, while automotive volume was off by 18%.
UP reduced its full-year volume expectations to 5% growth, down from its prior outlook of 7%, due to the impact of congestion in the intermodal supply chain and the downturn in auto production.
Executives said freight demand should remain strong into 2022, but capturing more volume would hinge on the pandemic waning and unsnarling congestion in the global supply chain. There's a record backlog of container ships waiting to dock at the ports of Los Angeles and Long Beach, while turn times for chassis and containers at inland destinations has slowed due to a shortage of truck drivers and warehouse workers.
"If we could snap our fingers, on the back end we would love to see more dray and warehouse distribution capacity. That's the first thing that we would love to see. I think that would fundamentally change street time for chassis and boxes," Fritz says.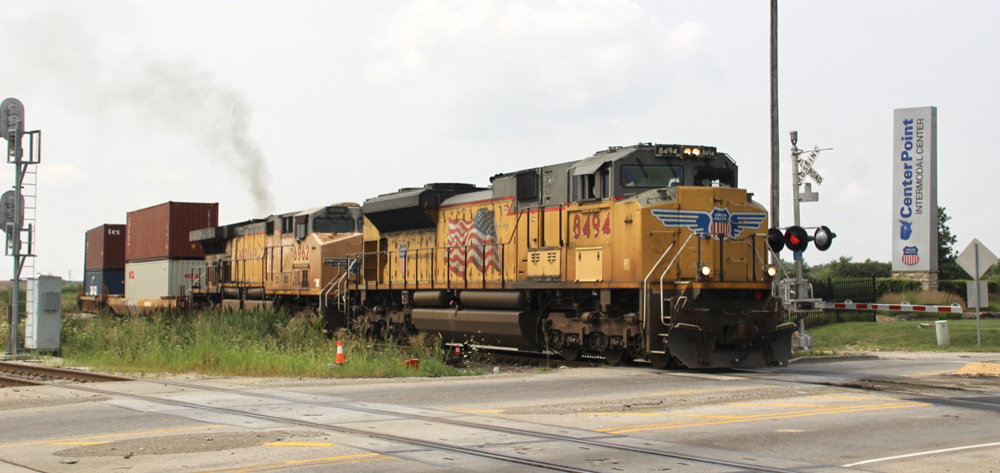 UP's intermodal car dwell is back within its historic averages, Gehringer says, and intermodal car velocity is the highest it's been in nine months. But street turn times for intermodal equipment are up 20% this year, effectively limiting the capacity of the intermodal network.