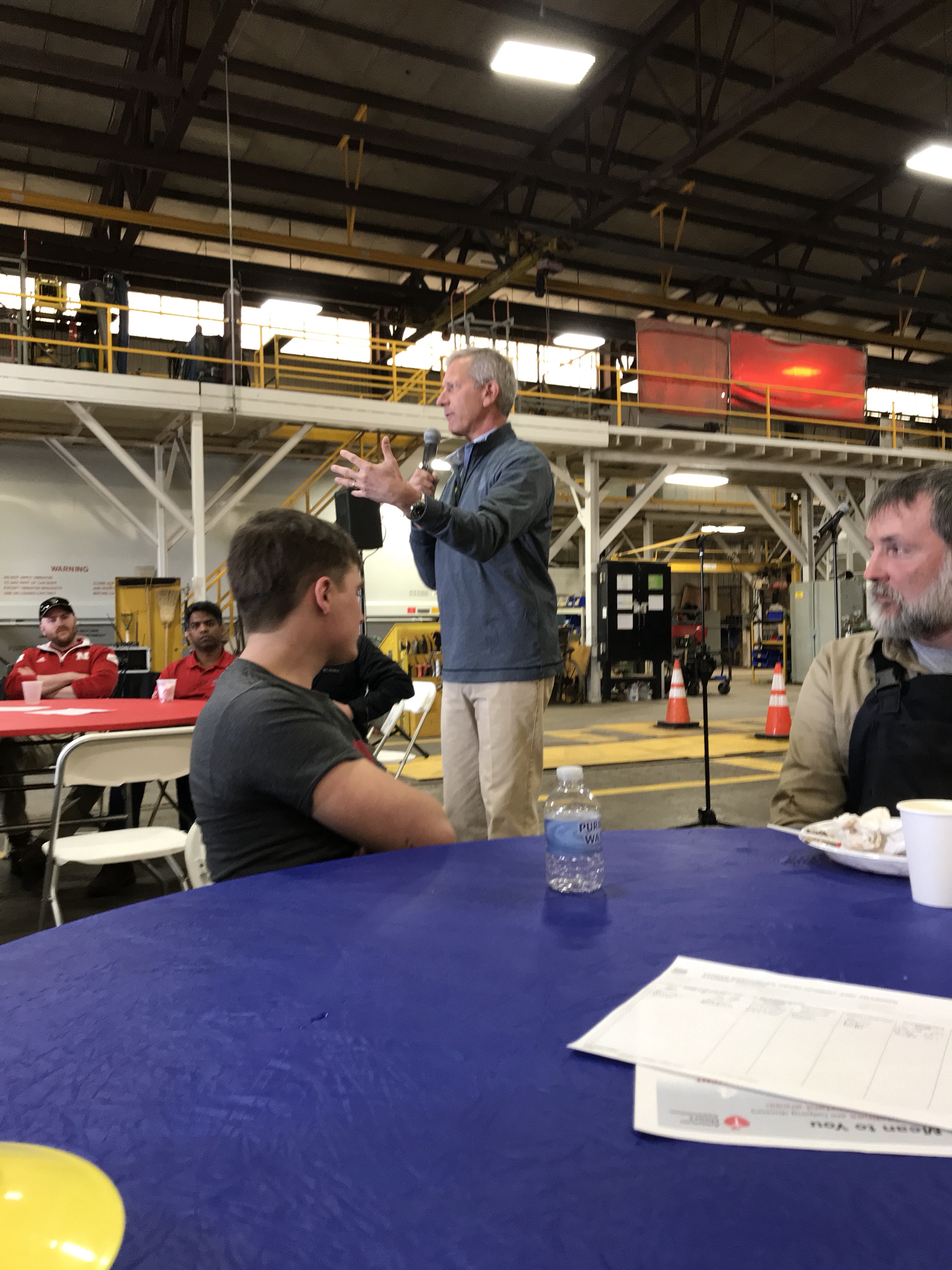 By KEVIN CHEEK, Committeeman Dupo Carshop 
Union Pacific Chairman, President, and CEO Lance Fritz paid a visit to the carshop in Dupo, IL on April 6th 2018, along with a bevy of his cohorts, to hold a town hall with it's employees. The employees numbered around 100 and were made up of numerous departments of the local Union Pacific and Alton & Southern railroads.
After their arrival, Fritz and his constituents boarded a bus for a brief tour of the yard. Already familiar with the wheel changing process, he was impressed at the speed and efficiency showed by the MBO crew performing the task.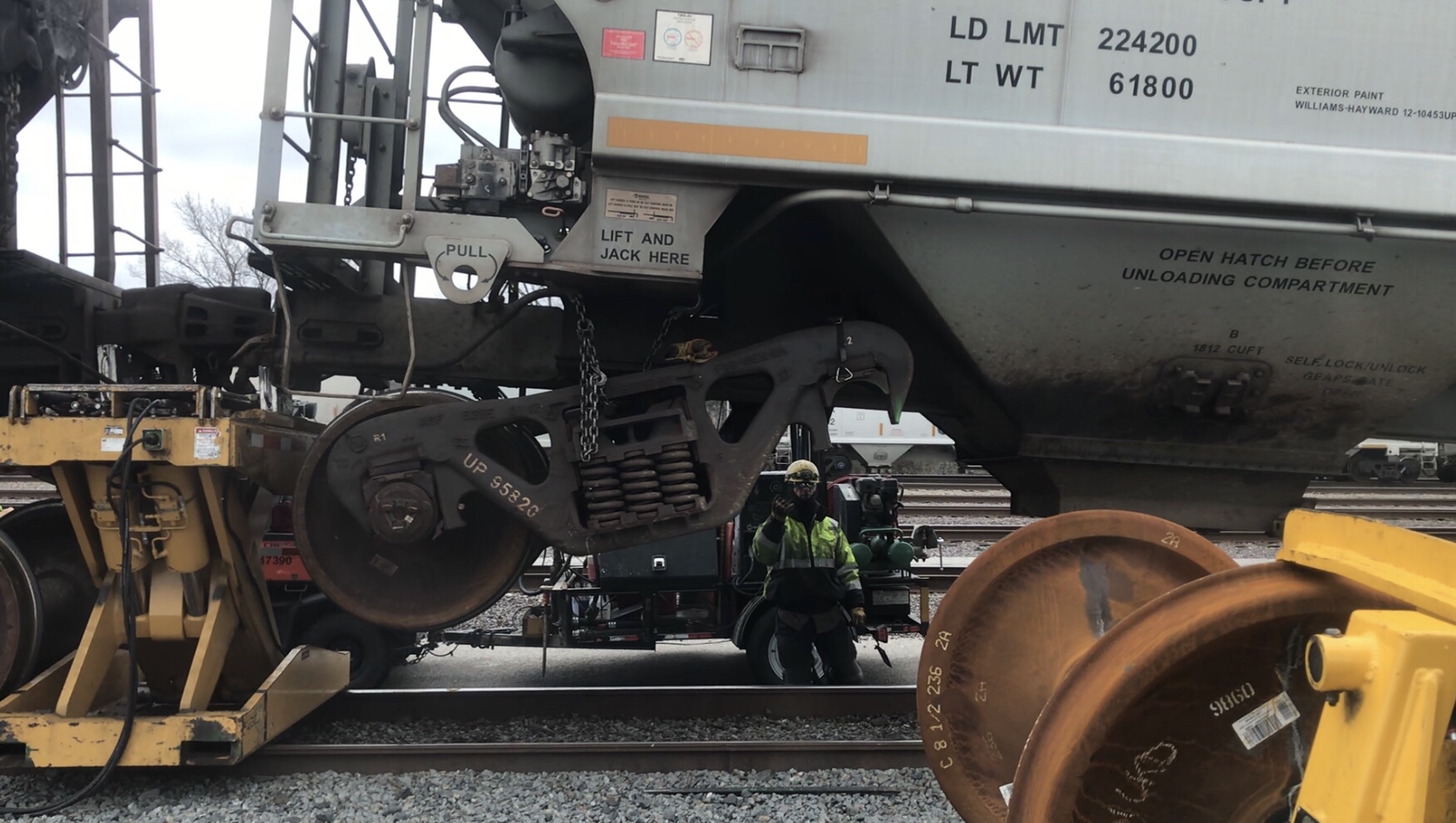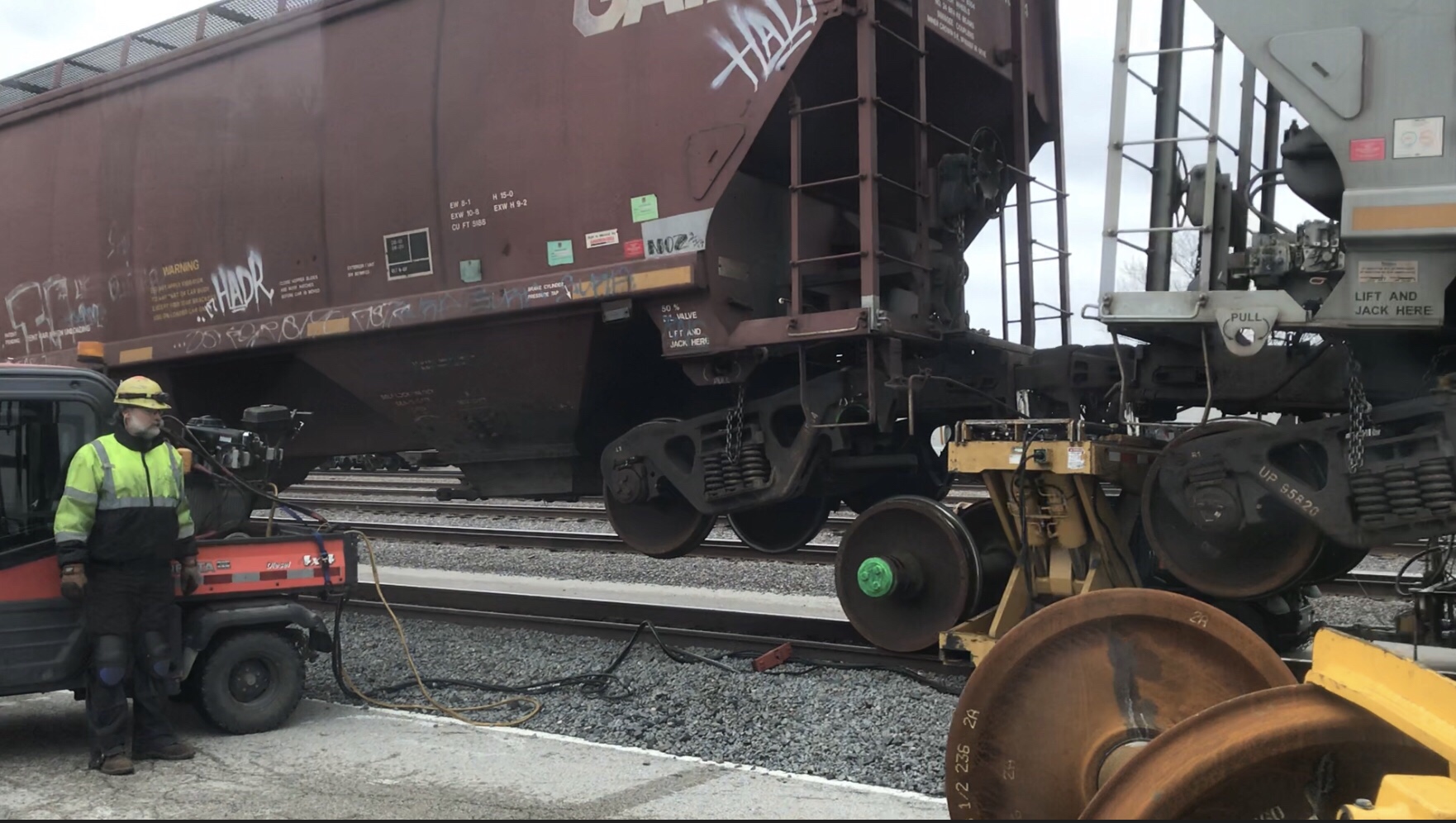 However, he was not familiar with the Haulette, a modified scissor-lift used by the employees to repair the hatch covers and tops on the grain train purification track, which he found intriguing.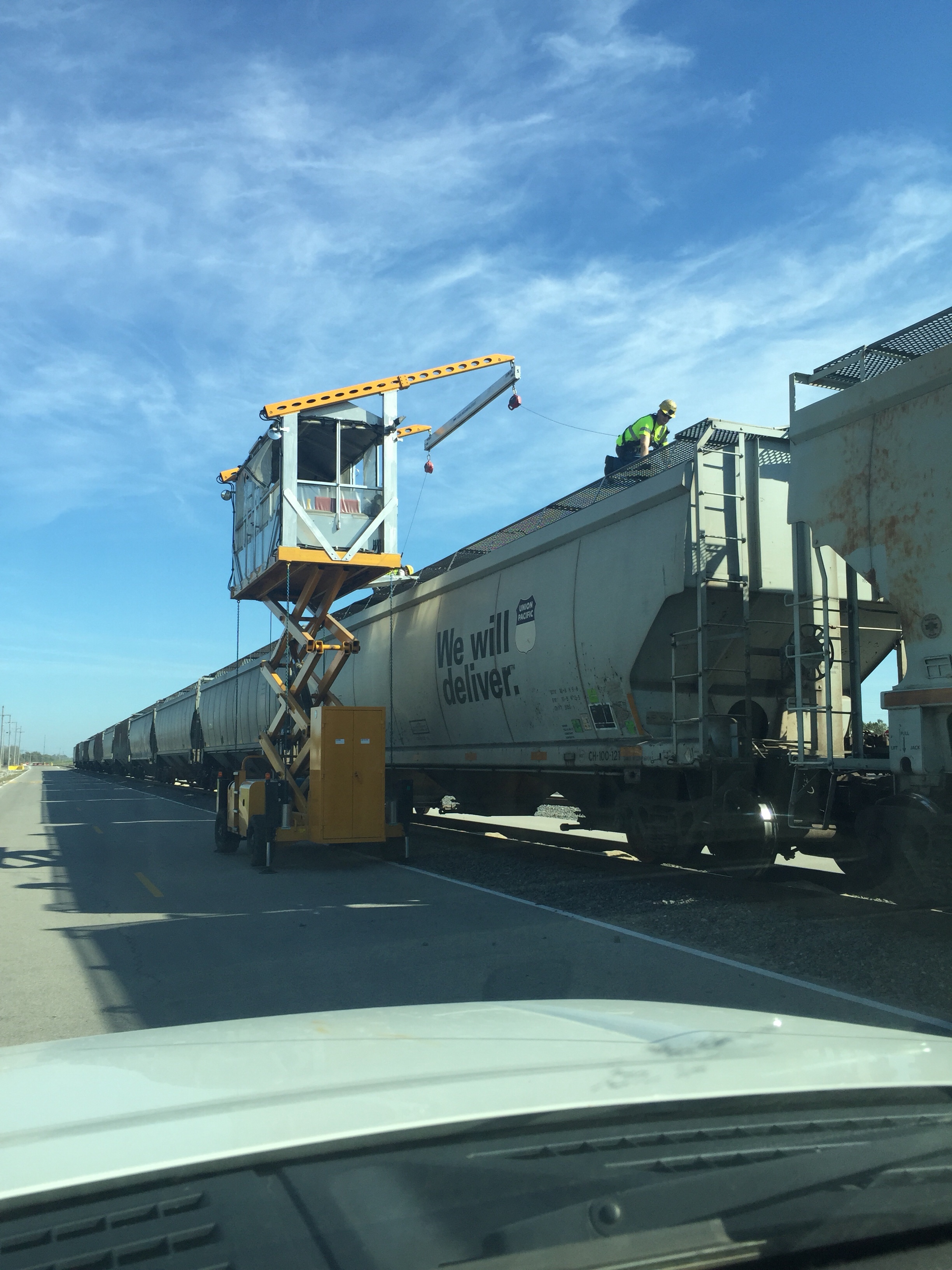 He also spent some time watching carmen performing UT testing, a process that uses ultrasound technology to detect underlying defects in wheels.
One may wonder how i would be privy to such information in regards to Mr. Fritz…
While having my lunch with a few other carmen, i heard a familiar voice say, "Now THIS is the table i want to sit at," as i stared at the empty seat to the left of me.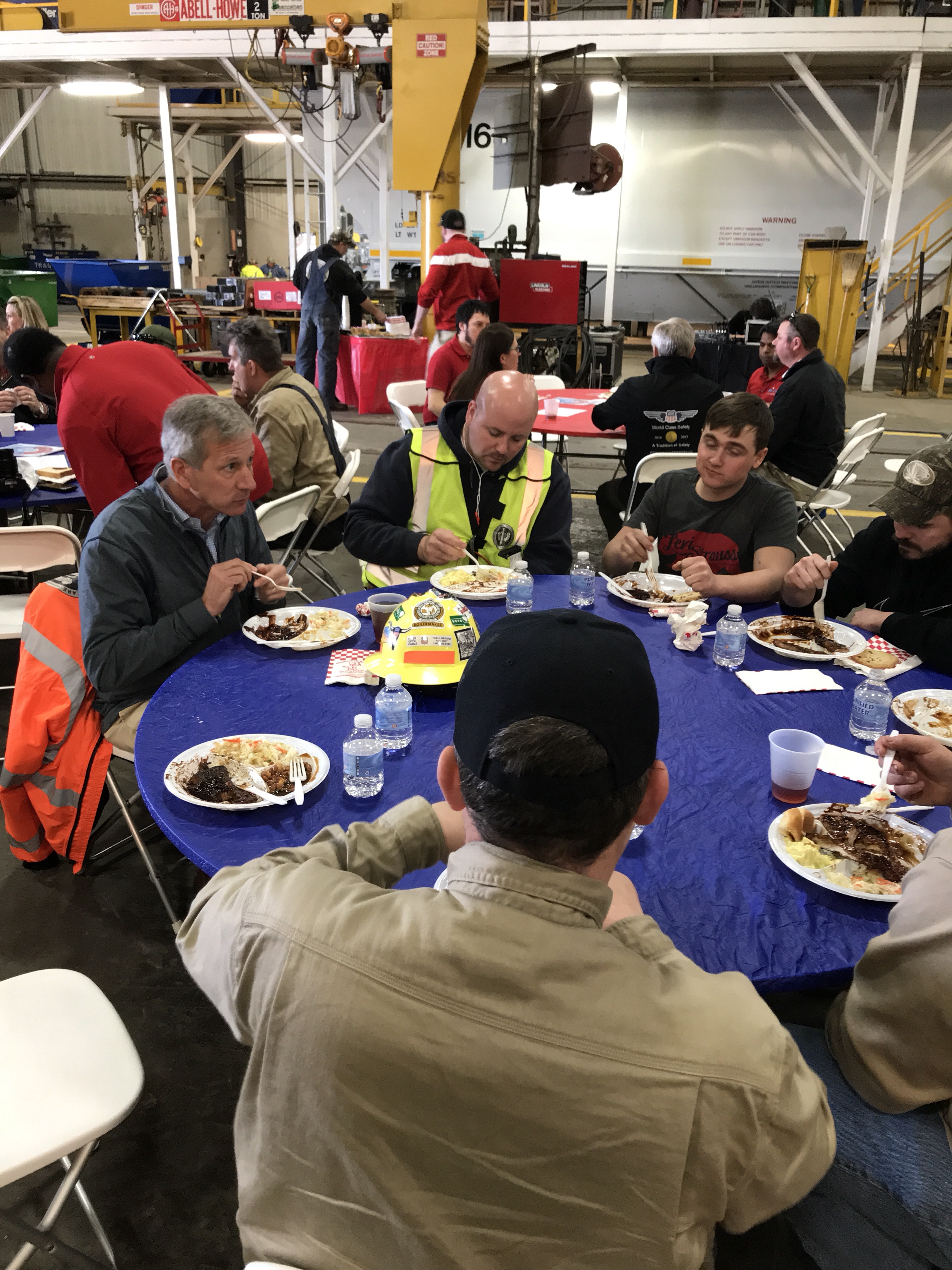 Mr. Fritz needlessly introduced himself to each carman individually, while shaking each one's hand. During lunch he expressed what i formerly mentioned, along with his admiration for the cleanliness of the shop. After asking about our service years and how we liked the job, the discussion turned to arbitrary things like our children, local minor league sports teams, and our "ironman" Bud Elliott who recently received his 50 year pin.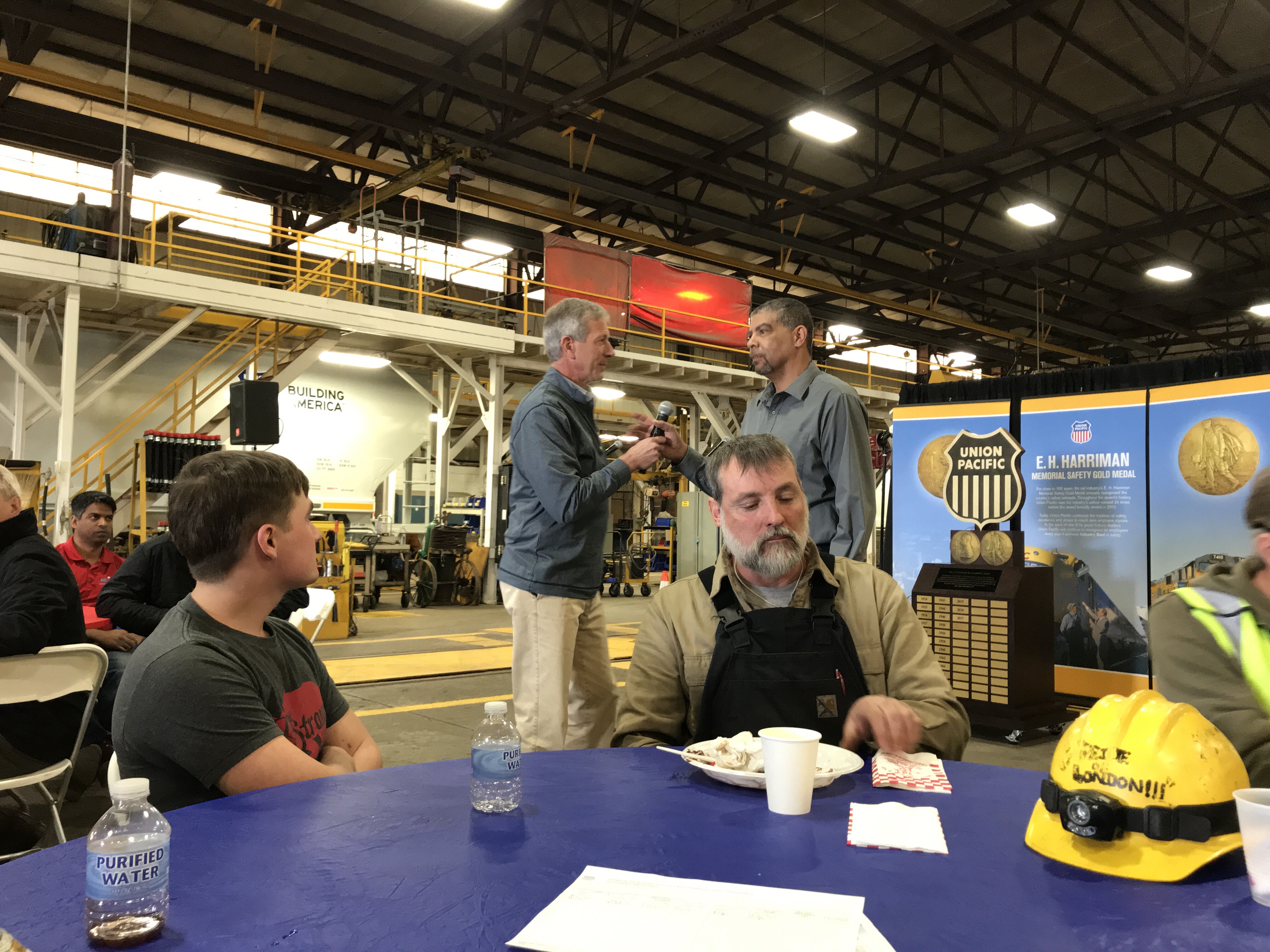 With the Harriman Trophy providing a backdrop, Fritz took to the microphone and started his outlined speech in regards to the St. Louis Service Unit. He mentioned how well the facility had performed, and how previous missteps could be contributed to other territories clogging up the system, causing us to become a "holding" address for others, especially the Southern region.
His eagerness was apparent when speaking about UP's 3.3 billion spending capitol program and his hope for top line growth. Once he opened up the Q & A portions of the proceedings, he was queried about his feelings on the U.S.'s current administration, and it's effect on the railroad industry. Mr. Fritz cited both the positive and the negative, tax reform acting as a positive, and the negative being the uncertainty revolving around trade tariffs.
For myself, Lance Fritz the person seemed like a very down to earth person, who didn't struggle to blend in with the common man. For what others think, still remains to be seen. What I can leave you with is a sliver of proof, that at the least, the man isn't afraid to bus the table of a subordinate…