Last week, CSX Corporation(NASDAQ: CSX) announced that it's soliciting bids for six non-contiguous rail segments located in North Carolina, West Virginia, Kentucky, and New York. Selling the non-core assets, which comprise approximately 650 miles of track, is part of a "broader initiative to drive asset utilization, enhance network efficiency and create long-term value for the company," according to CSX's June 6 press release.
That broader initiative is, of course, the transformation of CSX into a scheduled railroad, i.e., one that optimizes assets while implementing a strict service plan and precision train scheduling. This project was set into motion by railroad legend and former CSX CEO Hunter Harrison, who passed away last year. It's now being carried forward aggressively by CEO Jim Foote and the company's management team.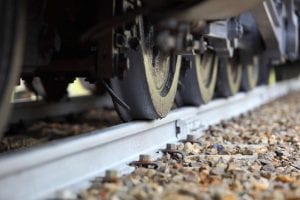 © Getty Images Close-up of railway cargo wheels.
Slimming down minimizes recurring costs
CSX announced at its annual investor conference in March that it has the potential to realize $800 million from assets by disposing of $300 million in real estate and $500 million worth of rail lines. The new six-segment solicitation is an addition to the 175 miles of rail in Georgia and Alabama that the railroad giant is already in the processing of offloading.
Shedding non-core lines is particularly beneficial as each mile of underutilized track carries overhead costs including repair and maintenance and associated general and administrative expenses. Consequently, eliminating unneeded rail helps improve CSX's operating ratio. The operating ratio is one of the most widely watched metrics in the rail industry and is calculated by dividing total operating expenses by revenue. Lower readings on this metric are correlated with improved efficiency.
In the first quarter of 2018, CSX's operating ratio fell dramatically, to 63.7% against 69.4% in the prior-year quarter. This was largely due to scheduled railroad implementation.
Taking the opposite route
Even as CSX whittles down non-core assets to drive operating ratio even lower, competitor Union Pacific(NYSE: UNP) is pouring massive amounts of capital in a new facility, albeit with similar long-term efficiency goals.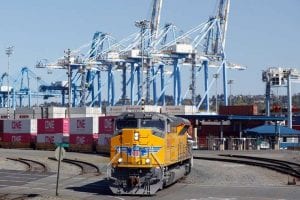 © Union Pacific Union Pacific car pulling containers at an intermodal station.
As I recently discussed, Union Pacific is investing $550 million in a new classification (sorting) yard in Brazos, Texas. It's the largest capital expenditure in a single facility in Union Pacific's history, and management hopes that the asset will help relieve some of the congestion the company is experiencing in its southern region. Network congestion issues tracing back to 2017 have caused Union Pacific's management to back off a goal of decreasing the company's own operating ratio — currently at roughly 64.5% — to 60% by next year.
Like CSX, Union Pacific believes in matching resources with demand and avoiding excess labor or keeping an unnecessary overage of cars in service. However, Union Pacific is presently throwing resources at its network by adding employees and cars to speed up its lines in a temporary sacrifice of operating ratio inputs. The investment in the Brazos yard is a longer-term solution to network fluidity and efficiency.
Ironically, as CSX implements its scheduled railroad plan, it's moving further away from Union Pacific's approach and reducing rail yards altogether. Last year, CSX took eight hump yards — an elevated yard that uses the force of gravity to move and sort trains — out of service, leaving just four hump yards within its network. Where possible, management has made it imperative for cars to take a direct route between loading and destination.
It should be pointed out that CSX's network, which primarily climbs up and down the eastern half of the United States, lends itself more readily to the principles of a scheduled railroad versus Union Pacific's multi-directional system map, which covers most of the rest of the continental U.S. In the railroad industry, productivity plans must be tailored to an organization's existing route system and rail structure.
Considering the factors discussed above, as CSX rides a wave of optimization and asset reduction and Union Pacific bulks up its asset base to become more efficient, it will be interesting to see how investors reward their disparate efforts. As of this writing, both have fared well to date in 2018: Union Pacific shares have gained roughly 9%, while CSX stock, with a firmer wind behind its back, has tacked on 22%. Both companies are scheduled to report earnings next in mid-July.