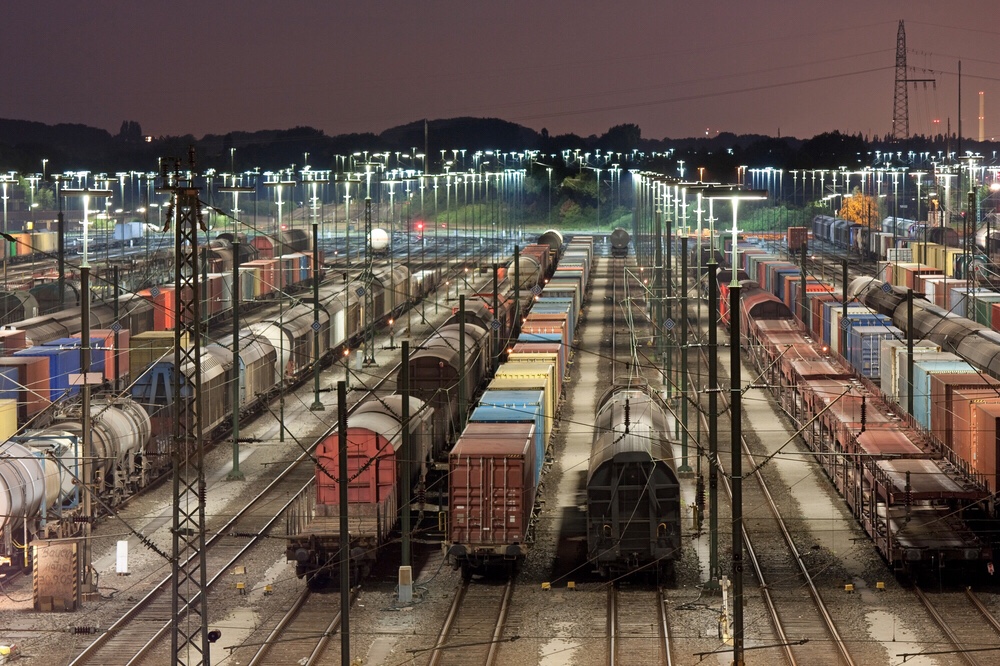 It was a hat trick of three railroads at the Bank of America Merrill Lynch transportation conference in Boston, all of them choosing to broadcast their presentations via webex. They all talked about great shipping markets, but the executives had a few other things to say:
Union Pacific
• Fixing Union Pacific's service issues has made "great progress," CEO Lance Fritz said in his presentation. UP, in a scorecard handed down by Amtrak earlier this year on railroad performance, got a B minus, which was not bad compared to others but reflects more Amtrak's ability to move on its system rather than the servicing of customers. "There was a bottoming out of our product in late February and early March this year," Fritz said. "Our velocity is up and our dwell time is down by about 3 /12 hours." He said a key metric for Union Pacific is the operating car inventory, which excludes such things as cars that are in storage or are at a customer facility. In the last 2-3 months, he said the number is down about 13%, which equates to a range of 25,000 to 30,000 cars. "I anticipate we will continue to make progress on these numbers," he said. "And we expect to get our service product back to where we want to be." Fritz said the southern part of the UP network has been the most troubled but that part of it was the impact of a "great new story," with the boom in petrochemical operations around the Gulf Coast "and all the attendant benefits. We love that business."
• Fritz addressed a detective question: how did the company's service get so bad in the second half of 2017 and into the first part of this year? He dated it back to the end of 2017's second quarter, when Norfolk Southern was more aggressively "ramping up" the installation of positive train control, a federal mandate that all railroads are now facing. "We were fully deploying it in the West, and we were starting to deploy it in the northern network," Fritz said. "The network is interconnected, so that bogged down our asset utilization." Then the Texas network–generally viewed as the part of Union Pacific's system that had the most problems–was hit by Hurricane Harvey. The good news after that is that demand for the company's service was picking up, but those added cars were "turbo charging" the delays, according to Fritz.
• The challenges are enough that Fritz said an earlier goal of getting the company's operating ratio down to the 60% level by the end of 2019 has been taken "off the table." The OR in the first quarter was 64.6%. "There is just not a lot of time left to squeeze out costs and get the ratio down to 60 or so," Fritz said "That deoesn't mean we are not committed. We remain as confident as ever that we will achieve that. It's just not likely going to happen in 2019." The longer-term goal "sometime out in the future" is an operating ratio of 55.
Norfolk Southern
• While CSX CE James Foote has said the "apology tour" for its earlier problems is "over," and Union Pacific's presentation at the conference was mostly upbeat, Norfolk Southern's CEO James Squires still addressed service issues up front. He said there is "no question" the Norfolk Southern network is running slower. "It is fluid," Squires said "We are holding our own against strong volume growth," which has featured levels not seen since 2006. "We are not making progress on speed or dwell times." But he said the company has added locomotives and personnel, though the overall head count has been flat, "so we are accelerating hiring." Capacity in rail is a function of both the physical network and the network's velocity, Squires said. If a railroad is trying to fix short-term problems, capital spending to increase or improve the physical network is not a solution. "Crews and locomotives will get the system back up," he said. The Norfolk Southern system has less double track and computerized signal systems in its southern portion, and therefore, overall less capacity, Squires said. "We will be making some adjustments in the southern region," he added, noting that the south has seen significant industrial growth, echoing the comments of UP CEO Lance Fritz about the boom in the region's petrochemical sector.
• Squires said traditionally, the intermodal business is a lower-margin business than the company's merchandise and coal segments, but that is not the case at present. Intermodal volume growth has been strong, and there has been "substantial" growth in incremental margins due to price increases in the sector. "As an indication of market strength, consider the fact that in the first quarter, despite a mix of headwinds, with much stronger growth in intermodal, we did generate a positive price mix," Squres said. "That tells you how strong the pricing environment is." He said it was "reflective of tight truck capacity" and that he believes the intermodal group can continue to generate price increases.
• Norfolk Southern's operating ratio, which was just under 70% in the first quarter, has a goal to be less than 65% by 2020, Squires said. BOA Merrill Lynch analyst Ken Hoexter asked Squires what would be the reputational impact of getting down to a 65% OR when railroads like Union Pacific are shooting for 60%. "First, sub 65 is not an end game for us," Squires said "We will continue to push the ratio lower from there. We think we are making progress, and it's also been more conducive to line growth now as we've ever seen."
CSX
• In contrast to the statements of other executives who talked about adding locomotives and employees, CSX CFO Frank Lonegro talked about cuts in those areas, this from a company whose congestion and operating issues in 2017 were considered probably the worst of all the class A railroads. Lonegro said the company has probably about 3,000 fewer employees year-over-year and that the company has "recovered from the challenges of the third quarter" and had set various operating records in the first quarter. "We're now fine tuning that plan and its execution," Lonegro said. The company's operations teams is concerned now with "how do I get originations up, how do I get velocity up and get dwell time down?" he said. There has been a shift from managing trains to managing cars, because "customers want to know if their car got to the destination on time." All of this remains the legacy of former CSX CEO and railroad legend Hunter Harrison, who died in December after having been installed as CEO as part of an activist shareholder coup earlier that year.
• The elimination of hump yards at CSX posed a significant difference with statements by Norfolk Southern and Union Pacific heard at the meeting. Under the precision railroading model that was being implemented by Harrison, hump yards–defined as areas where trains can gather for switching cars and where the gravity of the higher-elevation "hump" helps to move those trains around–were being closed frequently.  But Union Pacific's Fritz defended hump yards and the company's strategy. "Closing hump yards is not attractive from our perspective, as long as they are highly utilized," Fritz said. "They make sense, as it is some of the lowest-cost switching we do. As long as you're not adding touches, it makes emminent sense to use them." Not only that but UP is in the middle of new construction of a hard in Robertson County, Texas, northeast of Austin, called the Brazos project. It carries a $550 million price tag.
• The intermodal business at CSX has "turned the corner" faster than other parts of the CSX business, Lonegro said. The domestic intermodal business is down about 3% year over year, he said, but a lot of that is the result of rationalization of service rather than a true downturn. The international intermodal business is up about 10%, Lonegro said. That kind of rationalization is going to continue. "Precision railroading has clearly given us the opportunity to look more at redundant routes and branches that don't carry much traffic," Lonegro said. "Others may be able to run better there or there may be no business there at all," he added, forecasting further asset sales.
• Lonegro's comments on the market were all positive. Some customers who "went away" during the third quarter of last year are coming back, and the trucking market is "extremely tight…all in all, we're seeing in the second quarter good volumes. The only real challenges out there are not big in the grand scheme of things." CSX reports little pricing information, but the company is seeing "great strength" driven in part by conditions in the trucking market. Given that pricing environment, Lonegro said CSX would like to be able to renew all its business "today," but only about half the company's book comes up for renewal every year.
Article published by John Kingston, executive editor at freightwaves.com