Union Pacific seeks larger share of perishables market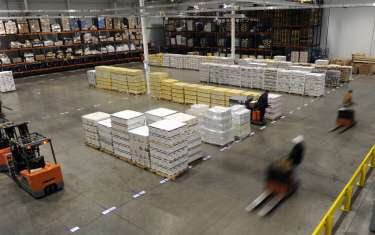 The warehouse was in full production at Railex in Rotterdam, New York where the NYS Labor Department spoke about new initiatives that have been designed to help business in the Capital Region to weather the economic storm. (Skip Dickstein / Times Union)
Union Pacific has ordered 1,000 new refrigerated box cars, with an option to increase that to  1,600, according to Progressive Railroading, as it plans for growth in the shipment of perishables through its Cold Connect service. A railroad spokesperson declined to say what impact this might have on its Cold Connect warehouse in Rotterdam, where the trains originating in California and Washington state terminate.
"Union Pacific does not release location-specific information," Raquel Espinoza, the railroad's corporate communications director, told the Times Union. However, "(i)n the second half of 2018, Union Pacific expects growth in food and beverage shipments, due to Cold Connect penetration, tightening truck capacity and import beer."
A shortage of truck drivers and rising diesel prices are helping railroads compete for more of the perishables business.
The railroad was an early partner of Railex, along with CSX, which launched coast-to-coast express trains in October 2006 from Washington state. A second train route, from California's Central Valley, was launched two years later.
Railex built the $18 million, 200,000-square-foot warehouse and distribution center at the Rotterdam Industrial Park with state funds paying for $2.735 million in rail improvements at the site.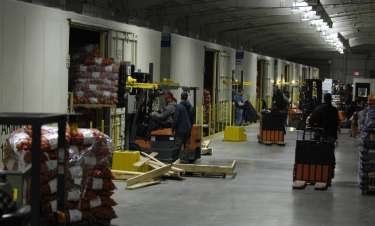 Photo: SKIP DICKSTEIN
Workers at the Railex Company in Rotterdam, New York unload rail cars of their load of produce from the west coast today. (Times Union Archives)
Union Pacific, which operated the trains as far east as Chicago, purchased the Railex facility in July 2017. At the time, it was believed to have 138 employees, according to a Worker Adjustment and Retraining Notification Act filing that Railex made with the state Department of Labor.
CSX operates the trains between Chicago and Rotterdam.
Initially, one train a week made the trip, with 55 refrigerated cars carrying the equivalent of 200 truckloads of produce — everything from apples and wine to lettuce and potatoes — in five days. Union Pacific last October announced plans to operate trains five days a week, according to the U.S. Department of Agriculture's Agricultural Refrigerated Truck Quarterly report.
The trip has also lengthened to eight days or more as the trains make stops along the way.  Still, that's about four days faster than a traditional refrigerated rail car would take.
And while Union Pacific won't talk about Rotterdam, it's expanding  in Washington state with an intermodal facility serving the Port of Walla Walla.
Port officials see this as a key link to the East Coast, according to a report in Railway Age.
"It's going to make your job easier, in trying to get the next manufacturer here, now they can ship direct to the East Coast via containers without having to go via Portland or Seattle," commissioner Mike Fredrickson told Railway Age. "This is, really, the Inland Northwest intermodal facility, operated by the major railroad in the United States."
Article by Eric Anderson at timesunion.com