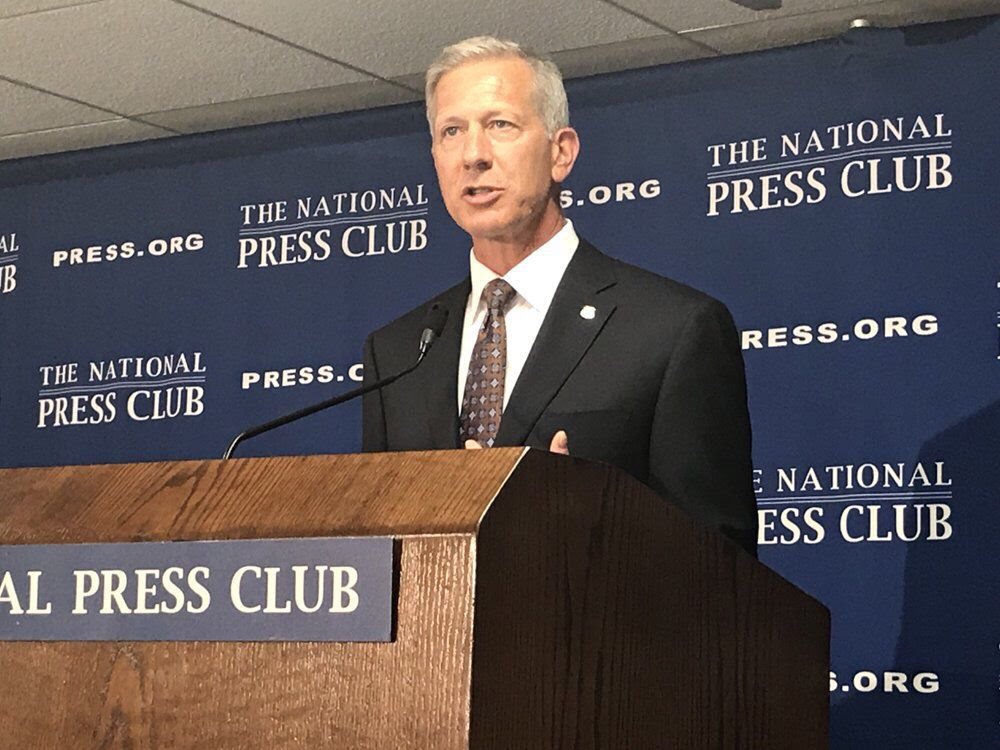 By Chuck Raasch St. Louis Post-Dispatch
Jul 12, 2018
WASHINGTON • In a sharp critique of Trump administration trade policies, the president and CEO of the Union Pacific Railroad said Thursday that withdrawal from the North American Free Trade Agreement would have a "disastrous" impact on the economy, and that President Trump's trade war with allies diverts the U.S. from a more pressing trade imbalance with China.
Lance Fritz said at a National Press Club luncheon that new tariffs on steel have driven up the cost of a new mile of railroad track from $3 million to  $3.75 million, and that tariff-caused uncertainty at U.S. ports is leaving ships sitting in docks, unloaded, for weeks at a time.
He said he is worried that a withdrawal from NAFTA after ongoing negotiations between the U.S. and Canada and Mexico would be an unnecessary shock to an economy that is booming from other Trump administration policies on taxes and trade.
"The best outcome is let's close this baby up quickly, let's stop picking fights with some of our trade partners, and let's focus our full attention and might on the issues at hand, which is fair and equitable trade investment with China," Fritz said.
The Union Pacific operates 70,000 miles of U.S. railroad track, and handles about 70 percent of the rail business to and from Mexico. Fritz said Trump's tax cuts and regulatory relief have allowed his company to boost annual capital investments of around $3 billion by at least $150 million in the first year.
"I have heard very positive news from our customers that say that both tax reform and the sensible approach to regulation are generating strong consumer optimism, generating demand for them, and growing their confidence in capital investment," Fritz said. "But our potential exit from (NAFTA), along with a growing list of tariffs and escalating trade tensions with our trade partners, threatens to undo much of our progress."
Asked if he had any allies on that position in the Trump administration, Fritz singled out Commerce Secretary Wilbur Ross, economic adviser Lawrence Kudlow, and Treasury Secretary Steven Mnuchin.
They "get the utility of trade and the end game right," Fritz said, referring to fair trade deals for American workers, but "what I am worried about is the tactics."
On other topics, Fritz:
• Said Trump campaign promises to revitalize the coal industry will not reverse a long-term decline of coal as a source of electricity in the U.S. "Society has made a decision that they want to rebalance their electricity generation and they want to rebalance away from coal," Fritz said.
• Argued that policy leaders are neglecting technology as the biggest cause for the decline of the U.S. industrial base employment.
He cited a Ball State University 2015 study showing that 88 percent of the 5.6 million jobs lost in manufacturing between 2000 and 2010 were due to automation, only 12 percent to "trade imbalance." Fritz faulted the U.S. for doing too little to train workers to fill jobs in his and other industries.
"We've got to stop teaching our kids that college is the only way to go" to prepare for a good career, he said.
• Argued that the U.S. will need immigrants to fill future jobs. He said the opioid epidemic "is creating felons, at large number, that become essentially unemployable" in his, and other industries.
"So we are going to need immigration to feed the work force and keep the economy going," Fritz said.
• Revealed that Union Pacific trains have an average of one collision a day with cars or trucks, and that 70 percent come at grade crossings that have lights or gates. Union Pacific, he said, is using "big data" and other technological advances to reduce accidents.
• Outlined modest expectations for an upgraded high-speed passenger rail line between Chicago and St. Louis, operated by Amtrak on his company's rails.
"I don't think ridership is going to explode" or that "it is going to replace the air service between Chicago and St. Louis," Fritz said.
Article published by stltoday.com