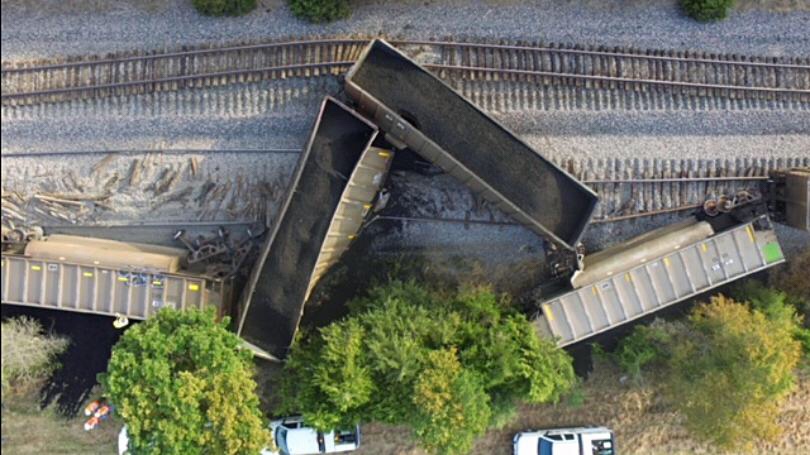 An aerial view of the derailment. (Courtesy of Glen and Ray Kadlacek)
RIESEL, Texas (KWTX) Ten cars of a 150-car Union Pacific Railroad coal train derailed late Monday afternoon at the Mount Moriah Road crossing along State Highway 6, just past the Highway 6-Highway 164 split.
No one was injured.
The train, which originated in Wyoming, was hauling coal to a power plant in Riesel.
The cause of the derailment, which was reported at around 5 p.m. Monday, is said to be from a shifted track due to unstable ballast rock.
"We'll take a look at the track, we'll take a look at the cars and we'll be looking at that throughout the night," Union Pacific spokesman Jeff DeGraff said.
The derailment may require delays or rerouting of other trains.
"We'll make those decisions once we determine how much work it's going to take to get the track reopened," he said.
DeGraff said they are "fortunate" because there are some options for rerouting trains around Central Texas.
Crews will work through the night to clear the tracks and begin cleaning up the spilled coal, he said.
"We expect the work to last through the night and into the morning," said DeGraff.
As of 2 a.m. Tuesday the tracks had been cleared of rail cars.
But the tracks had also sustained damage in the derailment.
Union Pacific hoped to have the tracks repaired and re-opened by Tuesday afternoon.
Article By Rissa Shaw for kwtx.com