Union Pacific will participate the presidential funeral procession for George H. W. Bush.
The railroad announced Saturday locomotive 4141 will take the president's body from the Houston area to College Station — the home of his presidential library on the Texas A&M campus.
UP unveiled the 4141 locomotive in October 2005, according to a company news release. It's painted in the color scheme of Air Force One and the rear panel of the locomotive features elements from the plane's wings and tail.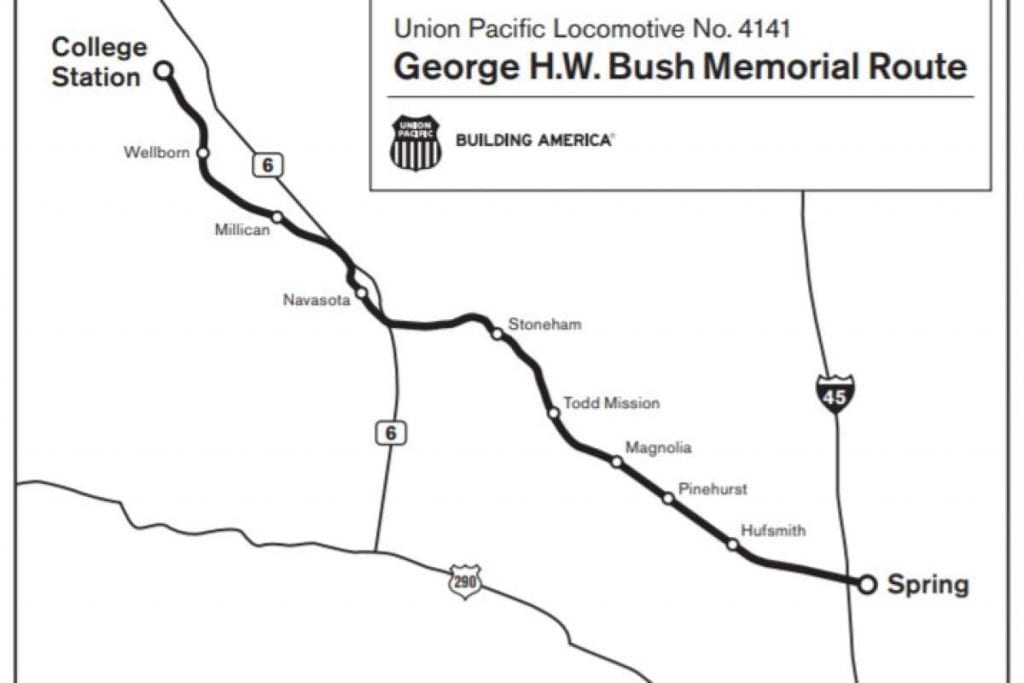 The railroad actively uses the locomotive as part of its fleet. It's delivered shipments across all 23 states served by UP, according to the company's news release.
President Bush took the most extensive campaign tour by September and October 1992. It was the longest rail trip for an incumbent president since Harry Truman, according to the UP news release.
"I love the American people, and this train trip is fantastic," Bush said at the time." You get outside of that Beltway, you take your case to genuine Americans."
It was officially unveiled back in October of 2005 in Central Arkansas at Union Pacific's North Little Rock Jenks locomotive shop yard, where it has also been stored for several years.
The locomotive measures nearly 16 feet tall and weighs 420,000 pounds with a full tank of diesel, according to UP. It can travel up to 70 miles per hour.
After a funeral route that will take the late President by plane from Houston to Washington D.C. and back again, a Union Pacific train led by a locomotive dubbed the "Bush 4141" will carry him to the George H.W. Bush Presidential Library in College Station, Texas.
The Bush 4141 is a rare locomotive that was commissioned to honor the former president in 2005. One of only a handful of Union Pacific trains to bear a color scheme other than the company's traditional blue and gold, it's painted to resemble Air Force One with a white body, a presidential seal and and long vertical bars of blue.
UP 4141 marks only the sixth time that Union Pacific has painted a locomotive in colors other than the traditional "Armour Yellow" paint.
Since it was built, the 4141 George Bush locomotive has delivered shipments across all 23 states served by Union Pacific, the company said.
The late president once operated the locomotive himself. Retired Union Pacific General Director Mike Iden said that while touring the locomotive after its unveiling in 2005, Bush paused in the conductor's cab.
"It was at that point, President Bush said, 'Can I take this for a drive?'" Iden said. With a little training and a lot of supervision, President Bush then operated his namesake train for about two miles.
On Thursday, his casket will rest in a car pulled by the locomotive during his nearly 100-mile final journey from suburban Houston to College Station. The trip is expected to take about two and a half hours.
As with funeral train rides for political leaders in the past, people are expected to line up along the tracks to pay their final respects. Such traditions have a long history dating back to Abraham Lincoln's funeral procession, which crossed through 180 cities and seven states on its way from Washington, D.C. to Springfield, Illinois.
Bush will be the first late President to be carried to his final resting place by train since Dwight Eisenhower journeyed from Washington, D.C. to Abilene, Kansas in 1969.
According to Union Pacific, the bodies of Presidents Grant, Garfield, McKinley, Harding and Roosevelt and were also transported by trains as part of their final journeys.
Those old enough to remember may also recall the images of people lined up, some with signs and others with bowed heads, to honor the slain Senator Robert F. Kennedy as his funeral train rolled across the country in June of 1968.
Scott Moore, Union Pacific's Senior Vice President of Corporate Relations, says he expects people will use Bush' funeral train route to pay tribute and reflect on the life of the former president.
"This particular train trip…is a great opportunity for Texans and people all across the country to say their final goodbyes to this great man," he said.
published by ketv.com