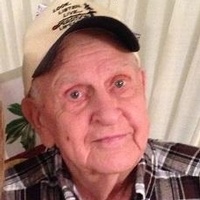 Delano Halter, 86, of Park Hills, passed away November 12, 2018 at his home. He was born July 22, 1932, in Mitchell, to the late Emil and Susan (Keay) Halter. Delano was a member of the Primrose Baptist Church. He loved hunting, especially coon hunting, and messing with his chickens.
He was preceded in death by his parents; brothers, Durwood and Dale Halter; three sisters, Rena McFarland, Dorothy Abbott, and Lela Price.
Delano is survived by his loving wife of 67 years, Patsy (Tyree) Halter; children, Judy Diane Mull and husband David, Jerry Dale Halter and wife Bobbie Sue, Dana Kay Murphy and husband Jake, Kristi Renee Hale and husband Luke; 10 grandchildren; 22 great-grandchildren; siblings, Bernice Pettus, and Willa Arnold.
Visitation will be held at C.Z. Boyer and Son Funeral Home in Desloge, Friday, November 16, 2018, from 5:00 PM until 8:00 PM. The service will be held in the C.Z. Boyer and Son Chapel, Saturday, November 17, 2018, at 10:00 AM, with Rev. Randy Murphy officiating. Interment will follow at Three Rivers Cemetery in Farmington. Memorials may be directed to Meals On Wheels in Park Hills.