February 24, 1925 – June 8, 2019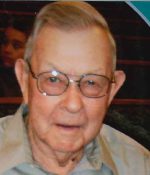 Eugene L. Brock was born in Wyatt, MO on February 24, 1925 a son to James Franklin and Della (nee Porter) Brock. He died at Hillcrest Care Center in De Soto on June 8, 2019 at the age of 94. He is survived by his wife Iris A. (nee Alexander) Brock, Hillsboro; two children: Judith (Nick) Zoph, Nashville, TN and Jackie (Pam) Brock, De Soto; eight step-children and thier families; 16 grandchildren, 35 great-grandchildren, and 34 great-great grandchildren; one brother Jack Brock of Sikeston and two sons-in-law: Flavie Buster, Valles Mines and Chuck Johnson, Festus. He is preceded in death by his parents; children: Eugenia Buster, Joyce Courtaway and her husband Dave, Madonna Johnson, Alvie Brock and his wife Sharon; one sister: Levada Brown; and nine brothers: Jess Brock, Lemon Brock, Bill Brock, C. J. Brock, Lee Brock, Tom Brock, Marshall Brock, Ray Brock and Clifford Brock. Gene had retired as a carman/welder from Union Pacific Railroad and was a member of Luckey Baptist Church. As an expression of sympathy memorial donations may be made to the Alzheimer's Association, 9370 Olive Blvd., St. Louis, MO 63132.
Obituary courtesy of Dietrich-Mothershead Funeral Home, Inc.