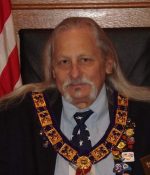 Thomas R. "Toup" Couppee was born on July 6, 1952 in Davenport, Iowa.  He was the son of Thomas and Margaret (nee O'Mora) Couppee.  He died on October 27, 2019 at his home in De Soto, MO at the age of 67.
He is survived by his wife, Pattie (nee Hennerichs) Couppee of De Soto; his daughter, Vaughn (Rico) Torres of Dousman, WI; two granddaughters, "B" & Layla; siblings, Mike (Rae) Couppee of Clinton, IA; Sue (Bill) Wolever of Comanche, IA; Tony (Kenly) Couppee, Milwaukee, WI; Dan (Jeneen) Couppee of Davenport, IA; and Jane (Don) Gordon of Davenport, IA; and 2 stepchildren, Nita McLemore of St. Louis, MO and Josh McLemore of Milwaukee, WI.
Toup was a member and Past Exalted Ruler of the BPOE Lodge 689 and a member of the Sons of AmVets Post 48.  He was a retired welder and carman from the Union Pacific Railroad and also a member of the Brotherhood of Railway Carmen of America.